Hunting, in general, requires a lot of patience, a lot of endurance, a lot of preparation and the best duck calls in order to have a successful outcome.
Duck hunting, in particular, requires the hunter to be a bit more prepared. It is generally accepted that the duck hunter should have the best duck calls on hand in order to attract his prey. These calls mimic different duck calls, the most popular one being their mating call, attracting ducks that either happens to be in the vicinity or are flying in the area within the range of the hunter's gun.
Historically, duck hunters taught one another how to mimic duck calls by making specific noises into their closed palms, making them sound like duck calls. Recently, however, a number of small businesses have started selling small whistle-like instruments that are designed to mimic ducks and their various calls.
All the hunter has to do is blow into these duck calls, alternate the intensity every once in a while for diversity and hope that the ducks fall for it.
Best Duck Call for 2021 with reviews
Here are some of the best ones on the market at the moment, hopefully, they will make it easier for you to decide.
1. Duck Commander Camo Max Duck Call
Weight: 0.3 ounces
Available Models: Camo
Specific Features:  Hand tuned,made to emulate the hen mallard calls, manually tested
Best Use: Mallard and duck hunting
Description: The Camo Max duck call is among the most popular and versatile duck calls in its line. It is made out of thick plastic, made and tested by hand, able to achieve the sound of a mallard hen with great accuracy.
It is capable of delivering the same level of accuracy with both a soft and hard blow, making it both versatile and easy to use.
The camo covering makes it easily worn and used while hunting, lowering the chance of being spotted or sending off reflective glares. All in all it is a good duck call, especially when the hunter using it is more interested in versatility and ease of use.
7 new from $27.43
Free shipping
as of December 1, 2022 9:37 am
2. Duck Commander Uncle Si Duck Call
Weight: 1.6 ounces
Available Models: See-through plastic
Specific Features:  Raspy, easy to blow, great for beginners
Best Use: Duck hunting beginners and inexperienced duck callers
Description: The Duck Commander Uncle Si Duck Call is among the more inexpensive and simple to use duck calls on the market.
Even though it is a single reed design, it is tuned to be very easy to use by a beginner, requiring very little in the way of knowledge regarding duck calls in order to be effective.
While it is very easy to use by a beginner, it is incredibly effective and capable of wielding great results when used by an experienced hunter.
Its rather raspy sound is easily manipulated and pitched by the intensity of the blow as well as other gestures that the hunter does while blowing into it, making it one of the better duck calls to aid new hunters in learning how to properly execute duck calls.
Because of its simplistic design, this particular duck call is among the more inexpensive ones, making it very affordable and a great idea for a gift. It is also easy to maintain because of its see-through design and durable polycarbonate shell.
3. Buck Gardner Double Nasty Camo Green Duck Call
Weight: 3.2 ounces
Available Models: Double Nasty II Camo Green
Specific Features:  Acrylic call material, Spit technology, sanded tone board, raspy bottom end calls, raspy mid-range feed calls.
Best Use: Hunting in lush vegetation, around known duck feeding areas.
Description: The Double Nasty duck calls were designed for the more rugged hunters. Even though the exterior design gives the impression of slight elegance and charm, the duck call itself was designed to handle a lot of abuse.
First off, this duck call comes equipped with Spit technology, allowing the hunter to use it regardless of the amount of spin in his mouth. This makes it a lot easier for the hunter while lying in wait for the ducks, to not scare off the ducks by spitting out the saliva.
Second, the tone board has been sanded to a fine finish, allowing the 2 reeds that it sports to vibrate hard enough to give out the raspy tones that imitate the duck feeding calls.
Last but not least, the entire body and shell of the duck call are made out of hardened acrylic material, making it durable and resistant to wear and tear. Last Amazon price update was: December 1, 2022 9:37 am
3. Duck Commander Classic Commander Double Reed Call
Weight: 3.2 ounces
Available Models: Classic Cedar
Specific Features:  Original Cedar inserts, hand-tuned, double reed setup, able to produce the natural rapines of a mallard hen.
Best Use: Experienced hunters that are hunting for mallards
Description: While this Duck Commander Classic Commander Double Reed Call is in the more expensive price bracket, it is a neatly designed tool for the experienced and well-versed hunter. While it could provide a good learning experience for the more inexperienced hunters, its price point and requirements make it a less than optimal choice in that regard.
The body of the duck call is made out of wood, making it able to vibrate with the reeds rather than against them, providing the reverberation that makes mallard calls stand out. When combined with the double reeds and the knowledge of a seasoned and experienced hunter, this duck call is able to accurately mimic the mallard hen.
The last thing to note about this duck call is the level of maintenance that it requires. While it is not as simple and straightforward as the ones made out of plastic or acrylic, this wooden duck call requires the occasional cleaning and general care and attention to not get it wet or exposed to too much humidity.
Last Amazon price update was: December 1, 2022 9:37 am
4. Ha-Yardel-Fleets DR-85 Mallard Call D Reed
Weight: 2.4 ounces
Available Models: DR-85
Specific Features:  Classic double reed setup, long-standing design, easy to use, adjustable
Best Use: Learning and inexperienced hunters, general duck hunting.
Description: This is a great example of a learner's duck call. Ha-Yardel-Fleets DR-85 Mallard Call D Reed has a simplistic design, meant to be adjustable and easily configurable.
The double reed setup, combined with the adjustable design, allow for a multitude of duck calls to be executed, from the most basic to the most advanced.
The fact that it is so easy to use, along with the low price point, make it great for beginners and hunters that want to learn duck calls properly. The classic design is meant to be sturdy and durable, making it able to stand the test of time without any problems.
It is easy to clean and maintain, highly durable and above all else it is able to take a lot of abuse and a lot of hours of practice without any actual damage being done to the reeds.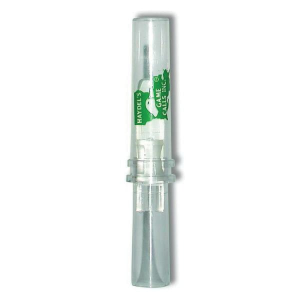 Last Amazon price update was: December 1, 2022 9:37 am
5. Duck Commander Triple Threat Duck Hunting Call
Weight: 2.4 ounces
Available Models: Triple Threat Acrylic
Specific Features:  3 reed design, able to replicate the feed call, quack and hail call of the mallard hen, easy to tune, easy to clean, easy to operate
Best Use: Experienced hunters, duck and mallard hunting
Description: The Triple Threat from Duck Commander is by far one of the most famous and well-appreciated duck calls from the Duck Commander line.
This is because of the fact that, even though it is neither the cheapest nor the most expensive duck call available, it is able to replicate a large number of calls with not much effort on the part of the hunter.
With the 3 reeds that it sports, along with the easily tuned mechanism, it is able to replicate the strong calls of the mallard hen with surprising accuracy, especially when used by experienced hunters.
While it might be a very easy to clean and maintain duck call, because of the 3 reed system and the overall complexity of the duck calls it is not a duck call that is suited to beginners. It is best used by experienced hunters for better overall results.
11 new from $29.41
Free shipping
as of December 1, 2022 9:37 am
What to Look and Watch Out for
The last thing that you want to do is rush into things by getting the first duck call that you find and call it a day. There are things to watch out for as well as things to look for when buying your duck call in order to make sure that you buy one that actually does its job.
The number of reeds
Proper duck calls have between 1 and 3 reeds which vibrate when air passes through them, thus mimicking the duck call in question.
There are duck calls out there that have no reeds, however, those are considered ineffective and should be avoided.
As a rule of thumb, the more reeds a duck call has, the more accurate it is and the more results it will yield.
Single reed calls are preferred by old school hunters because the reed does vibrate and make the base duck sound while the hunter controls the intensity with his breath and tone with his hands around the call, thus making the actual call.
Double reed calls are among the most popular, especially with more casual hunters. These calls are a lot simpler to use than single reed calls, the hunter simply blowing into them without having to do mostly anything else.
Triple reed calls are more or less the innovation in this field. Still relatively new on the market. These are designed with simplicity in mind, making it a lot easier for hunters to call the ducks to them.
The material
Another important thing to keep an eye out for is what the duck call is made out of.
The material plays a very important role because it affects the resonance of the call and the vibrations that are involved with making the sound itself.
That being said, there are 3 main materials that you will have to deal with.
Metal is by far the worst choice.
Metal expands and contracts depending on the temperature as well as affect the general vibrations, warping the sound and making the duck call inefficient.
Plastic is the newer alternative and the cheapest of the options.
While plastic duck calls are cheaper and a lot more readily available on the market, there are a couple of things to watch out for.
Only the thick and sturdy plastic ones are good to use because they can contain the vibration and make the proper sounds.
The thin plastic ones are both flimsy and unable to handle the vibrations, often times distorting the sound.
Wood is the classic choice.
While it is a bit more expensive and not as readily available as plastic, it is often the best choice for duck calls.
The wood is able to keep up with the vibrations that are being made by the reeds, often times enhancing them and boosting the level of quality of the call.
Wooden duck calls are a bit more expensive than the rest, however, they are of better overall quality.
Ease of maintenance
Maintenance is an important aspect that should not be overlooked. When buying your duck call, make sure that there are ways in which it can be opened up, disassembled or at least provides access to the reeds and the inside of the call.
The main thing that needs to be covered is the removal of saliva that tends to build up inside.
A simple slit or opening on the side can fix that, allowing the hunter to shake the call and drain the saliva out that way.
These are the important things that you should keep an eye out for when buying your duck calls
In Conclusion
While there are a lot of things and a lot of aspects that need to be taken into account when planning a hunting trip, the duck calls will always be at the top of the list.
They serve a very clear purpose and are designed to do something that very few other hunting supplies are able to do, bring the ducks to you, and while it does take time to master them and learn everything that is to be learned about them, there are a large number of alternatives and a wide variety available on the market.
Whether you're a beginner that is just now starting to learn about duck calls or a seasoned veteran that is looking for alternatives, there is something for you available on the market.
Hopefully, this list and the instructions that came with it will provide you the help that you need while looking for the best duck call for your needs.